Questions? Call 877-345-5256
Vertical Sponsorships
Advertise to Job Seekers Where They're Most Active
Advertise your company's open positions and strengthen your brand in a place where job seekers are seeking jobs specifically in your industry: CareerBuilder's industry-specific Jobs & Resources pages.
With Vertical Sponsorships, you choose which vertical you'd like to sponsor based on your hiring needs, and we create a combination of strategic, high-performing display and newsletter ads within that market to get you directly in front of the candidates you seek.
Example of sponsorship placement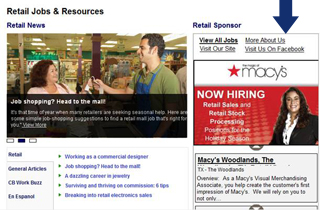 You'll not only have a semi-exclusive ad on a page of CareerBuilder's website dedicated to your chosen industry, but your ads will also appear in newsletters sent twice a month to job seekers who have signed up to receive relevant content and job news specific to your vertical of choice.
Capture the attention of qualified job seekers in your specific industry where they're active and engaged.
Strengthen your brand and expose a new targeted segment of job seekers to your company's culture and offerings.
Get an edge over your competitors with premium, semi-exclusive ad placement — only up to six ads are rotating on your chosen vertical page at a particular time, so you are guaranteed a large Share of Voice.
Enjoy the flexibility of running your ads for the length of time that works best for you, from one month up to a full year.