Questions? Call 877-345-5256
Supply & Demand Portal
Get Real-Time Access to Labor Market Trends
Request More Information
Simply complete a short form and a CareerBuilder representative will be in touch with you soon.
Your talent is on the move — are you keeping up? Talent pools grow and shrink depending on the labor demand by job type in particular markets. By understanding labor demand of the U.S. workforce, you can more effectively guide your recruitment strategy in terms of employment brand, compensation and overall advertising placement.
Get meaningful talent intelligence for your recruitment process with Supply & Demand Portal. For an in-depth view, watch the video now.
Gain real-time access to:
Supply: The availability of active candidates for any position.
Demand: Locations where you will find the most and least competition is for that talent.
Filter results by:
Geography
Company name
Industry
Keywords related to specific skills
Job title
Certification
Education
In addition, view trends from the last two years to adjust your recruitment strategy as needed. The portal's accurate talent intelligence covers 90 percent of the online job market.
Intelligence from this portal is also invaluable in helping answer the following business questions:
How tight is the labor market for the position I need to fill?
How could market saturation be impacting the compensation I need to offer for a position to be filled?
In what locations, and for what positions, are companies having a tough time hiring talent?
How can I better hire for emerging or hard-to-fill positions?
Where and who are my biggest competitors hiring talent?
Where should I open a new business?
PRODUCT REVIEW

"CareerBuilder's new tool is one of those things you begin to use and wonder how you ever did your job without it."

- John Zappe, Online Media Consultant and Professional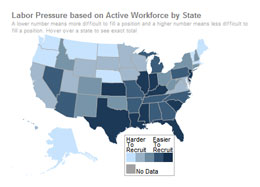 Related Blog Posts
Check out these examples of 10 hot industries where Supply and Demand Portal has found a growing demand in the number of workers needed to fill job openings.