Questions? Call 877-345-5256
Mobile Ambassador
Put the Power of Mobile Job Referrals In Your Employees' Hands
Put your job openings in the pocket of every employee with an iPhone or Android smartphone with CBmobile Ambassador, a mobile employee referral app exclusively for your use by your employees.
Employees can search for jobs, refer those in their personal or professional networks, and share openings via email or text message with the CBmobile Ambassador app. Trust your current best talent to deliver your future best talent by arming them with the most effective tool to do just that. Mobile Ambassador: Recruitment made mobile. For an in-depth view, watch the video now.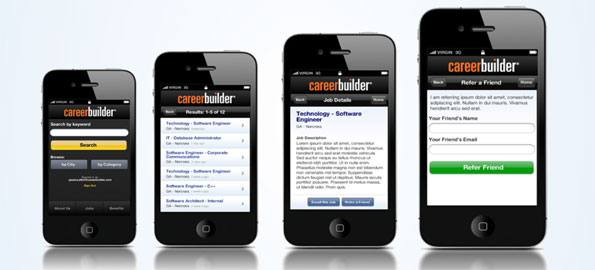 How Mobile Ambassador Stands Apart
Ensure employees can access your job openings and refer people in their network, anytime and from anywhere.
Get the best people and increase your rate of quality referrals by putting the power of an employee referral program right in your employees' mobile devices.
Remain competitive in a changing recruitment landscape — mobile isn't just a trend.
Enjoy full app support, maintenance and enhancements; the ability to chronologically track all employee referrals; integration with your job feeds; and design and branding help.
Get a custom launch plan for all employees, as well as internal marketing and "new hire" materials about the referral program.
Related Blog Posts
Well-structured employee referral programs are one of the best ways to generate new hires, and have been shown to increase retention, lower costs, boost morale. Take a look...